Acalvio Technology Advantage
Acalvio Active Defense platform is built on a wide range of innovations such as: using deception to detect malicious network activities, network intrusion diversion, tunneling for deception traffic, network infrastructure obfuscation, methods for detecting and tracking adversary trajectory, threat engagement, & deception engagement, context-aware knowledge systems for deception deployment, among many others.
Acalvio is the only vendor in the deception space to have received 25+ issued patents for seminal inventions in the last five years.
The continuous innovation enables Acalvio to provide a unique feature set for ShadowPlex Identity Protection, Advanced Threat Defense and Threat Hunting products. The differentiated and robust features help enterprises in adopting an active cyber defense strategy across a diverse environment covering IT, IoT, and OT, and on-premises and cloud workloads.
The most comprehensive "Cloud-First" Distributed Deception Platform for organizations looking to deploy Deceptions at Enterprise Scale
Efficacy
Complete Deception Palette
Extendable
Authentic
Autonomous
EASE OF USE
Autonomous
Deception Farms Architecture
SCALABILITY
Patented Fluid Deception Technology
DECEPTION SECURITY
Agent-less
Unbreakable Attack Containment
VISIBILITY
Endpoint Attack Surface
Attack Paths
AD InSights
Network Insights
INVESTIGATE
Securely Engage
Threat Hunting
Advanced Analytics
Acalvio ShadowPlex Architecture
Acalvio Active Defense platform has two main components: The Acalvio Deception Center (ADC) and the Projection Sensors. The ADC can be deployed on-premises or in the Cloud. It is the centralized server that hosts, projects and manages the Deceptions. Sensors are light-weight components that are installed in the enterprise network, both on-premises & in cloud workloads, and enable decoy projection from the ADC.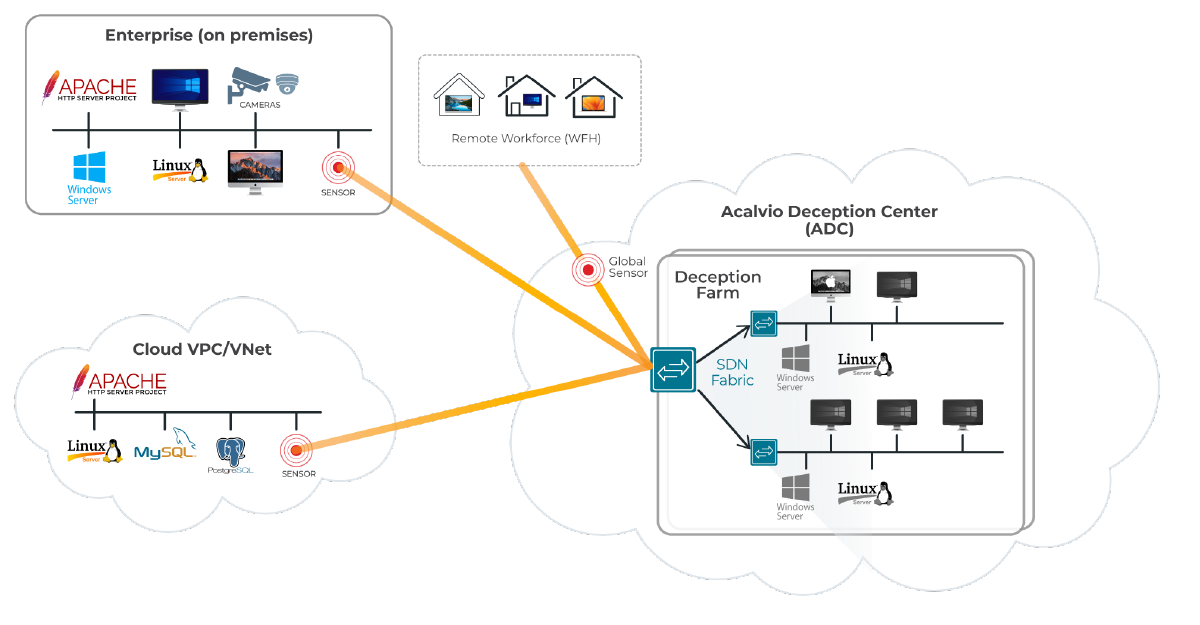 Deception Quality and Density
Traditional deception offerings are plagued with a conundrum — do you deploy lots of inexpensive low interaction decoys that provide breadth and coverage but no depth; OR a few high interaction decoys that provide depth and detail but are expensive. Through our Fluid Deception technology, ShadowPlex delivers the best of both worlds. The result is cost-effective deceptions at scale.
ShadowPlex leverages AI at every step resulting in significant reduction in the effort to deploy deceptions and increase detection efficacy. They include:
Determine deception strategy customized to every subnet
Configure non-fingerprintable blended deception
Generate personalized endpoint deception, unique and relevant
Keep deception dynamic to match network changes
Automate Alert Triage
Seminal Patented Innovations
FEATURE: FLUID DECEPTION
Patent #
Status
DYNAMIC SECURITY MECHANISMS FOR MIXED NETWORKS
10,326,796
Issued
THREAT ENGAGEMENT AND DECEPTION ESCALATION
10,033,762
Issued
NETWORK INFRASTRUCTURE OBFUSCATION

9,021,092
9,350,751
9,729,567

Issued
RESPONSIVE DECEPTION MECHANISMS
10,348,763
Issued
FEATURE: DECEPTION PROJECTION INFRASTRUCTURE
 
 
NETWORK STIMULATION ENGINE

8,335,678
8,413,21
8,978,102
9,680,867

Issued
TUNNELING FOR NETWORK DECEPTIONS
9,979,750
Issued
NETWORK INTRUSION DIVERSION USING A SOFTWARE DEFINED NETWORK
10,193,924
Issued
DYNAMIC HIDING OF DECEPTION MECHANISM
9,756,075
Issued
DECEPTION TO DETECT NETWORK SCANS
9,985,988
Issued
DECEPTION MECHANISMS IN CONTAINERIZED ENVIRONMENTS
10,972,503
Issued
FEATURE: AI
 
 
SYSTEMS AND METHODS FOR DETECTING AND TRACKING ADVERSARY TRAJECTORY
9,961,099
Issued
CONTEXT-AWARE KNOWLEDGE SYSTEM AND METHODS FOR DEPLOYING DECEPTION MECHANISMS
9,853,999
Issued
SYSTEMS AND METHODS FOR IDENTIFYING SIMILAR HOSTS
9,836,512
Issued
FEATURE: THREAT ANALYSIS
 
 
USING HIGH-INTERACTION NETWORKS FOR TARGETED THREAT INTELLIGENCE
10,230,745
Issued
COMMAND AND CONTROL CYBER VACCINE
10,104,120
Issued
IMMUNIZING NETWORK DEVICES USING A MALWARE MARKER
10,218,741
Issued
MULTIPHASE THREAT ANALYSIS AND CORRELATION ENGINE
10,270,789
Issued
ENTERPRISE DNS ANALYSIS
10,362,057
Issued
TESTING ENVIRONMENT CYBER VACCINE
10,419,479
Issued
FEATURE: HONEY REDIRECTION
 
 
ALTERNATE FILES RETURNED FOR SUSPICIOUS PROCESSES IN A COMPROMISED COMPUTER NETWORK
Issued
Explore our patented technologies to enable Active Defense and Identity Protection in your enterprise.